Yogi's Covered Large Picnic Pavilion adjacent to the Water Zone Pool
$75 + Tax
Area includes reserved seating area for 100 -120 people (Cooking allowed) with charcoal grills. Located on B-Loop adjacent to Yogi Bear's Water Zone – Please add this cost to your campsite or Per person Group ticket costs.
Pavilion Rental Fee for 3 hours: 11:30 am – 2:30 pm or 3 pm – 6 pm
Note: Day use pavilion rental -yogi pavilion holds up to 100-120 people not 60
Follow us….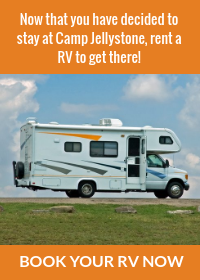 Our Location