YOGI BEAR'S JELLYSTONE PARK IN MANNFORD, OKLAHOMA TO BEGIN
$4 MILLION WORTH OF IMPROVEMENTS IN 30 TO 60 DAYS
The park will be open May 20th through Labor Day Weekend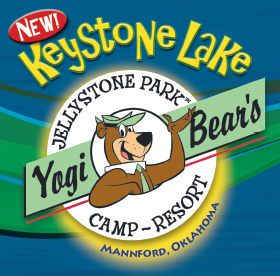 MANNFORD, Okla., Feb. 3, 2016 — Bob and Beth Ryan were planning to retire when they sold Yogi Bear's Jellystone Park in Quarryville, Penn. in 2013.
But having operated a campground as a family business for 25 years, the Ryans found they weren't ready to sit still just yet. Enticed by the allure of Oklahoma, the Ryans have subleased a portion of the Salt Creek Recreation Area from the U.S. Army Corps of Engineers and developed plans to transform the 125-site campground at Keystone Lake into a 600-site Jellystone Park Camp-Resort that could draw families not only from neighboring Tulsa, but from as far away as Arkansas, Kansas and north Texas.
"We plan to break ground on $4 million worth of improvements in the next 30 to 60 days and have at least 75 campsites with 30 and 50 amp service and a few cabins available when we open on May 20th," said Beth Ryan, who is managing the park with her husband, Bob; sons, Ben and Steven; and Steven's wife, Courtiney.
Overnight campers and day user visitors who arrive in May will also be try out the Wibit, a floating water park playground developed in Germany that includes climbing structures, obstacle courses, slides and floating trampolines.
Phase One of the Ryans' plan includes considerable reconstruction and renovation work at the campground, including:
Reconstruction / refurbishment of all 125 existing campsites to include new gravel, 50 amp electric services and to reconfigure certain sites to create some pull through sites and the installation of additional water lines as needed.
Repair and or the addition of a sewer system and the hook-ups for one section of the existing park.
Constructing of 12 additional Full Hook-Up R V sites.
Construction of 20 full service camping cabins, with a mix of 3 different size units.
Reconstruction of the swimming beach and installation of the largest Wibit floating aqua park available.
Installation of 2 pools swimming and activity pools totaling almost 10,000 square feet plus twin . 40 foot water slides.
Construction of an 8,000+ square foot Camp Store and Registration building that will also house a snack bar and craft activities.
Redesign of the front entrance.
The timing of the initial swimming and activity pool construction will be based on the timing of approvals from the Oklahoma Department of Environmental Quality.
Future plans call for construction of a 50-slip courtesy dock, a 150-slip marina, three to four additional swimming pools, a water playground with water slides and a waterfront restaurant after the Ryans assess the level of public demand and interest in the additional planned improvements.
The Ryans said they have worked closely with Mannford Mayor Tyler Buttram, Town Administrator Mike Nunneley and both the local and Tulsa divisions of the U.S. Army Corps of Engineers to obtain all of the necessary entitlements as well as an extendable lease from the federal government.
The campground at Keystone Lake originally consisted of 125 water and electric campsites with 3 boat ramps, 3 fishing piers, playgrounds, sand beaches, pavilions and restrooms on over 220 acres situated on beautiful Keystone Lake. Keystone Lake is a man-made 25,000 acre recreation lake with over 300 miles of pristine shoreline. The park, which is open from May 20th through Labor Day Weekend, is located just off highway 51 and is 18 miles west of Tulsa Oklahoma. For reservations and for more information, please visit www.keystonelakejp.com.
About Yogi Bear's Jellystone Park™ Camp-Resorts
Launched in 1969, the Jellystone Park™ system is the second largest chain of campgrounds in the United States, boasting 82 campgrounds with more than 17,000 campsites and vacation rentals in 32 states and three Canadian provinces. Its Camp-Resorts are among the best campgrounds in the industry with a quality reputation for being fun, friendly, clean and service-oriented parks.  Additionally, each Jellystone Park™ is themed with Yogi Bear™ elements providing instant recognition and consumer appeal.  It is truly a place "Where You Camp With Friends."®Yogi Bear's Jellystone Park™ Camp-Resorts are franchised through Leisure Systems, Inc. (LSI), a wholly owned subsidiary of The Park River Corporation, Cincinnati, Ohio. For more information, visit www.campjellystone.com.